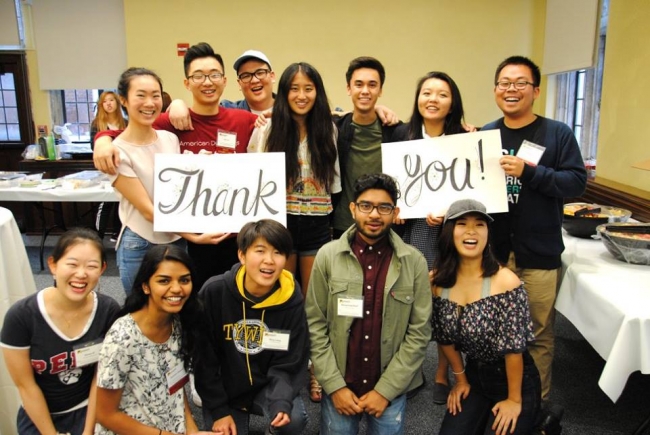 Thank you for supporting PAACH and our mission!
Much of PAACH's student support efforts depend on contributions from university donors like you. No amount is too small, and each new donation helps us demonstrate just how important PAACH is to the Penn student and alumni communities. 
Gifts from alumni, parents, and friends are immediately put to use in PAACH programming and services. Funds might support the celebration of AAPI culture during Asian Pacific American Heritage Week, unique and lasting leadership development at the Asian Pacific American Leadership Initiative (APALI), or our local high school outreach program, ASPIRE. We also use gift funding to respond to immediate needs within our community and to support the work and events of more than 70 student groups that have made a home at PAACH.
If you would like to make a gift that we can use for immediate spending this year, please give to the General Fund. To make a gift that will last in perpetuity and generate annual spendable income, please give to the Endowment Fund. 
If sending a check, please make it payable to The Trustees of the University of Pennsylvania, with Pan-Asian American Community House in the comment line. 
Please mail checks to :
Pan-Asian American Community House
3601 Locust Walk, Suite G22
Philadelphia PA, 19104
Your gift makes a difference! But don't take our word for it…
"The day I came into PAACH is the most important day of my college experience by far: it gave me a community, it showed me the importance of activism, and it empowered me to learn and create as a part of APAHW. Thank you so much to everyone who has or will donate, your support helps PAACH continue to do such incredible work." – Michael Kwok
"I walked into PAACH by accident; It was my first time at Penn and I was exploring the campus. Walking on campus I was questioning my decision to choose Penn, but when I talked to Kusum and met the people of PAACH, I saw a space where I felt I could belong. Now I'm a freshman and a work-study at PAACH. Thank you for your donation, PAACH couldn't make the impact it does without your support." – Kamaljot Gill
"My favorite part about coming to PAACH is walking into Kusum's office and being greeted with a smile and a genuine "How are you?" every time. I will be endlessly grateful for all of the conversations we've had and the support she has given me. Her couch is pretty comfortable, too 
" – Connie Chen
"I walked into PAACH my freshmen year and was intimidated by the close connections and relationships I witnessed. I didn't return till my sophomore year as a work-study student and immediately I found myself among a family that would look out for me and take care of me. The students and staff at PAACH are so welcoming and caring and for that I am so grateful." – Sunny Roy