Started in 1996, Penn's Filipino language program is populated with students looking to connect with their culture and converse with their families.
Eight thousand miles away from Philadelphia lies the Philippines, a tropical archipelago dotting the Pacific Ocean. Its 117 million inhabitants speak more than 120 languages, including the country's national language, Filipino, a modernized version of the indigenous Tagalog with loan words from English, Spanish, and Chinese. 
It's also one of the most spoken languages in the United States. According to the U.S. Census Bureau, Filipino is the fourth most spoken language following English, Spanish, and Chinese, but Filipino language classes are rare, even at the college level. At Penn, they've been offered since 1996. 
This semester, Vicky Faye Aquino, is teaching Beginning Filipino to 13 students every Tuesday and Thursday evening, with the assistance of Deo Mar Suasin, a teaching assistant and Fulbright Visiting Scholar from the Philippines who is also taking classes in the Graduate School of Education. Many of the students enrolled in the course so they can connect with their heritage and communicate with their families, Aquino says. 
Though raised bilingual, Katrina Verano, a second-year student majoring in mathematics from Malvern, Pennsylvania, says she stopped practicing Tagalog during elementary school because there was no one else her age to converse with. "I was the only Filipino in my high school. I really took it to heart," she says. "It was always only me."
Verano says she regrets that she no longer remembers the language and is taking the class to rectify that. "I want my kids to be able to speak Tagalog. I was so grateful that my parents taught me," she says. "I felt like it was really a gift. In order for me to stay connected as strong as I want to be, I have to speak the language."
Many first-born Filipino Americans were not taught to speak their parents' language, Verano says, including her cousins and most students in the class. Some students say their parents didn't teach Filipino to them fearing they would pick up an accent or not excel at school. Assimilating and fitting in was the goal. 
Jonathan Villegas, a third-year mechanical engineering major from Pasadena, California, is biracial, and his Filipino father came to the U.S. for college at age 18. Villegas says his father "doesn't talk about it much. He had some negative experiences being Filipino in L.A." and felt he was passed up for jobs and promotions. 
Villegas heard about the class from another friend who had previously enrolled. Before that, learning Filipino "honestly never really occurred to me," Villegas says. "I assumed it wouldn't be available. A lot of colleges don't have it."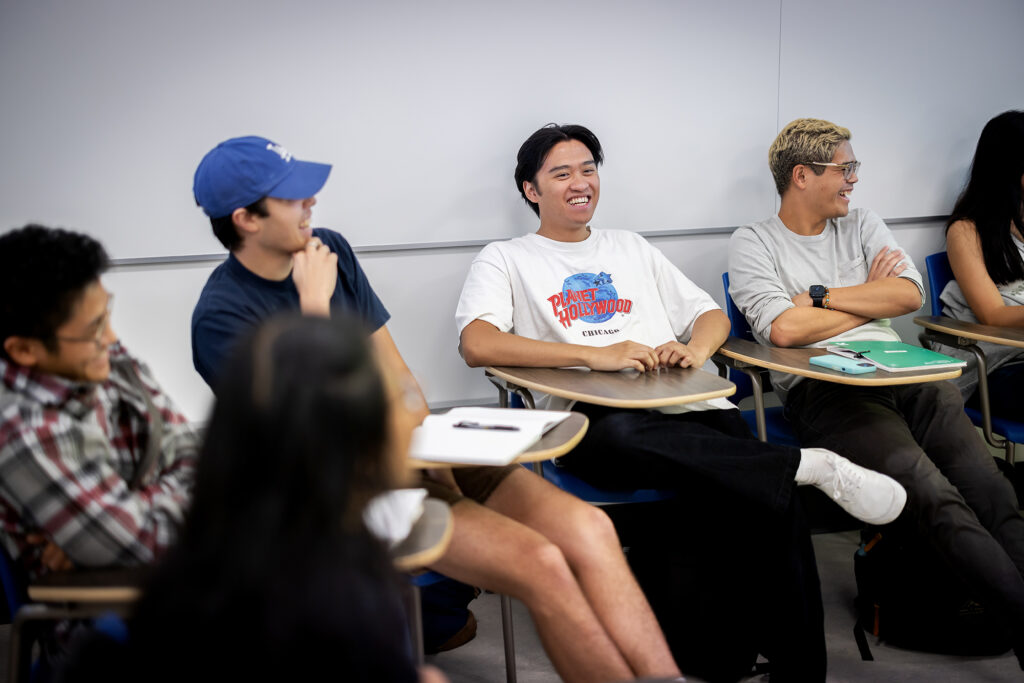 At Penn, the program was started by Erlinda Juliano 27 years ago. As she was preparing for her retirement, Juliano met Aquino at a Filipino cultural event called Barrio, hosted by the Penn Philippine Association, and started asking pointed questions. Was Aquino originally from the Philippines? She was. Does she speak Filipino fluently? She does. Had she ever taught the language before? She had.
Juliano encouraged Aquino to apply for the lecturer position. Aquino almost hesitated. She already had a full-time job as the associate director at the Pan-Asian American Community House (PAACH) and a 2-year-old daughter at home.
But the language is important to her, Aquino says. She didn't want students to miss the chance of learning how to speak their heritage language.
Aquino stays late twice a week to teach her students, bringing movies, art, culture, and music into the classroom. Aquino took students to the Penn Museum to look at artifacts from the Philippines. She brings in cultural components, teaching the students slang and showing contemporary videos. On Oct. 31, the students are headed to PAACH for "Halo-Halloween." Halo-Halo is an elaborately layered, special occasion dessert. There will also be singing because "Karaoke is part of our culture," she says. "It's not just a language class."
Polyglot Oksana De Mesa, a clinical research nurse at the Perelman School of Medicine, is originally from Ukraine. She grew up speaking Ukrainian, learned Russian when her family immigrated to Chicago, added Mandarin, and dabbled in Spanish, Japanese, and Korean. De Mesa loves languages and enrolled in the course so she could speak with her husband in his native tongue, she says. "Plus, it would be nice to impress my in-laws eventually, especially Lola Luz, the grandmother." (Lola means grandmother in Filipino.)
De Mesa's Spanish has come in handy because of the abundance of Spanish loan words in Filipino, she says. This includes common vocabulary like sala (living room), gwapo (handsome; guapo in Spanish) and mundo (world), recognized in Filipino along with the Tagalog word for world, daigdig.
The commonalities are no coincidence. Spain colonized the Philippines for more than 300 years until 1898, when it ceded the region to the U.S. at the end of the Spanish-American War. The U.S. established military rule over the country and remained in power until Japanese occupation during World War II. The Philippines gained independence in 1945.
Now, Aquino says, Filipinos have a great sense of national pride in their language and culture, and students living in the diaspora want to take part. In one class, at Aquino's urging, Verano led the class in singing the anthem, "Lupang Hinirang," which means "Chosen Land."
Aquino, who grew up in the Philippines, says, "Every morning, we had to sing the national anthem, place our hands over our hearts." Most of her students had heard the anthem before. "Honestly, it's kind of a banger," says one of the students, and her classmates laugh and nod.
Hearing the students learn and speak Filipino is the most gratifying part of the work, Aquino says. Even though she is away from her daughter, "it's for her, too," Aquino says, and an important part of perpetuating the language and cultural knowledge.
Sefora Elish, a first-year nursing student from Syosset, New York, calls her grandparents to share what she's learned after every class. They taught her a few words, she says, but mainly switched to Filipino when they wanted to tell secrets, she says. When Elish saw the language offered at Penn, "I had to do it," she says. "It's important because a lot of schools don't offer it." Often in class, Elish finds herself saying, "Oh, I know that word, but now I can put it in a sentence."
As for Villegas, he hasn't yet told his family in California that he's learning Filipino. He's going to wait. Then, during Winter Break, he can greet and surprise his grandparents with "Mano po. Kumusta po kayo," a traditional way of greeting elders. "It's going to be a Christmas present," he says.
(While the terms "Filipino" and "Tagalog" refer to different variations of the language, they are used interchangeably by speakers in this story.)