The mural in the ARCH building lobby represents and celebrates the diversity of Asian Americans and Pacific Islanders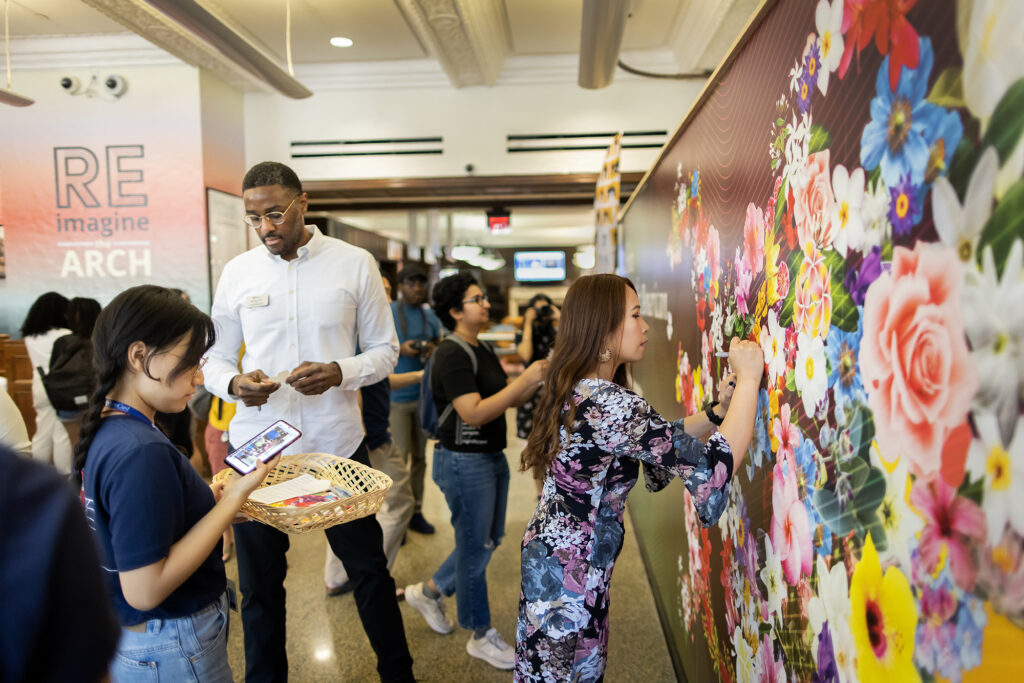 From the vivid red poppy of Turkmenistan to the golden shower tree of Thailand, all 66 Asian and Pacific Island countries are now represented on a vivid mural in the ARCH building lobby. The mural, "Planted in Different Worlds by Chance, But We Bloom Together by Choice," was planned by the Pan-Asian American Community House (PAACH) and unveiled with student collaboration in an April 13 event.
The base of the painted mural is a woman's silhouette and a house icon representing PAACH, said Vicky Aquino, associate director and self-taught artist. Aquino came up with the mural's vision. PAACH, she said, "is a place where everyone can grow and bloom like flowers that have their own colors, scents, and unique beauty."
Aquino invited students to choose one or more of 66 flower decal stickers and attach them to the mural, adorning the hair and neck of the silhouetted woman with roses, lilies, plumerias, and Tahitian gardenias. 
"The national flower of the Philippines is jasmine, which smells really good," said Aquino, who chose that as her sticker. "As a Filipino American, that's my pride. I really want to be inclusive of every single person; the best way is to represent them through the national flowers of Asia and the Pacific Islands. As a community, we should all work toward the same goal of advocating for each other, uplifting one another, and living our lives harmoniously like a field of colorful flowers."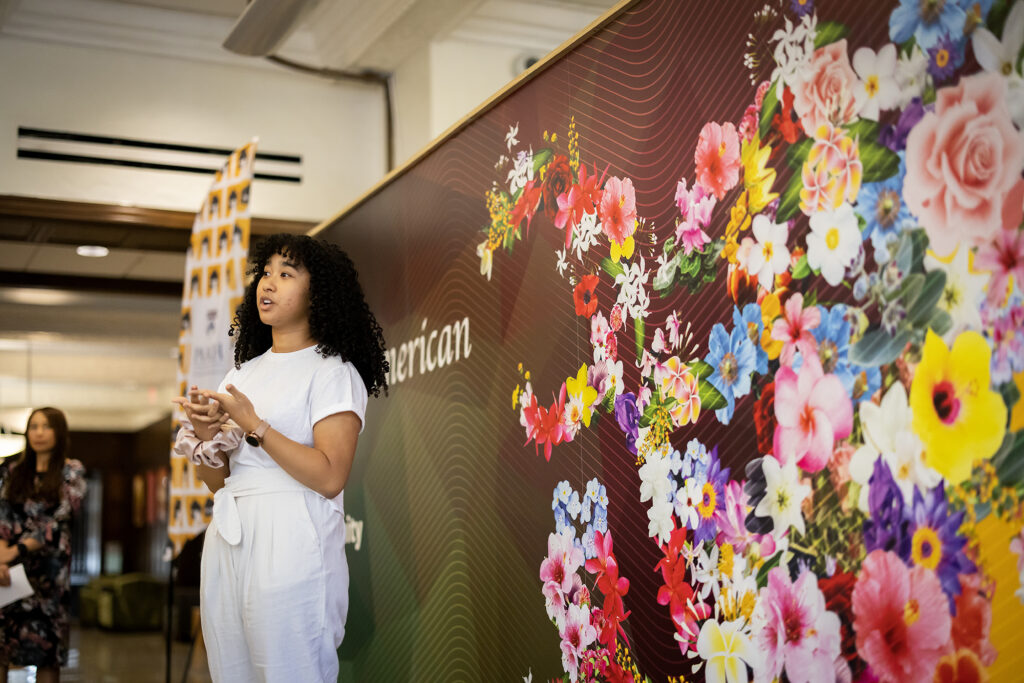 Grace Edwards, a second-year studying health and societies with a journalistic writing minor, worked with the PAACH team on the mural as their office assistant intern. Edwards, who grew up in Damascus, Maryland, and has since moved to Haverford, Pennsylvania, felt it was important to include everyone, she said.
Edwards identifies as biracial. Her mother is from Vietnam; her father is from Barbados. Sometimes, she says, she felt as if she had to choose. During the pandemic, there was a surge of both anti-Black racism and Asian hate, she said.
"I was able to come to terms with that and figure out what it means to be Black in America and what it means to be Asian American in America," Edwards said. "I'm still kind of navigating that. But I'm hoping that I can use my identity to bridge these two cultures."
The mural also incorporated a QR code that goes to a website where students can list additional AAPI organizations. "If you are part of an AAPI community, please identify that group so that we can come and reach out to you in the fall to collaborate," said Cindy Au-Kramer, PAACH finance, operations, and program coordinator. "If you are looking to connect and you don't know what the resources are, whether it's Penn services, alumni connections, or community partnerships, come to us so that we can connect you."
This project was supported by the PAACH team and program assistants; Marjan Gartland, director of creative strategy and design at University Life; and Will Atkins, associate vice provost for university life.